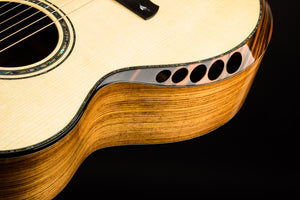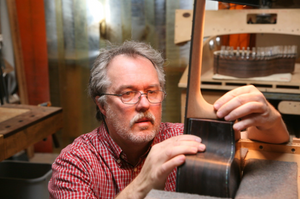 Founding luthier, Kevin Ryan, worked for the Southern California-based Northrop Aeroscience Lab when he prototyped his first guitar design. It was 1987. By day, he built jet fighter models for transonic wind tunnel testing. Late into the evenings, he worked on guitars, obsessively re-imagining the traditional aesthetics and sound of the iconic American instrument.
Though an aeroscience lab was, perhaps, an unlikely setting to foster an avante garde acoustic guitar, Kevin's experience at Northrop – steeped in materials science and precision engineering – equipped him with a singular perspective and set of tools to craft a new class of acoustic instrument. 
As he worked – melding art and engineering – on his first series of guitars, each step seemed to inspire new approaches to guitar design and construction. With time, he debuted more instruments and more models, with industry-first design features like the Ryan Bevel and Acoustic Flutes, Acoustic Honeycomb, and laser-sculpted "EO" bracing, among others.
Kevin's inspiration from contemporary design and advanced tooling garnered attention within the larger guitar industry and, within three decades, his visionary work helped set a new standard for the look, feel, and performance of modern acoustic instruments.
Photo Credit: Fretboard Journal
Ryan's Design Innovations
Engineered Laser Cut Bracing
Strong and light for an exquisitely responsive soundboard.
Acoustic Honeycomb
Adds lively and brilliant tone while increasing soundboard strength and decreasing weight and distortion. 
Spherically-Arched Back
Offers the best of both worlds: The focus and comfort of a smaller guitar with the powerful acoustic voice of a deep-bodied instrument. 
Ryan Bevel & Acoustic Flutes
The original integrated ergonomic bevel. Offers balanced sound and optimum comfort. The Flutes project brilliant overtones toward the performer and audience alike.
Precise Intonation
Oxbone saddle with CNC-milled string compensation is set in a reduced profile bridge to maximize clarity and volume.
Integrated Fretboard Binding
Precision-milled fret slots ensure the strength of the fretboard over time.
Inlay, Bridge Pins, Finish
Each Ryan guitar is furnished with abalone shell or wood marquetry details, fitted with custom titanium bridge pins, and coated with a brilliant UV diamond-gloss finish.