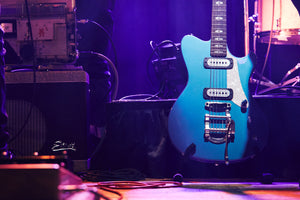 "This is a guitar for electric players who don't want to be a stereotype." ~ Andy Powers
June 14, 2023 | Eliot Hunt (Adam Dardeck & Dan King)
Spend a little bit of time with Andy Powers - the master designer, CEO, and President of Taylor Guitars - and the phrase that comes to mind to best describe this soft-spoken-but-assured San Diego native is "renaissance man". A conversation with Andy can cover topics ranging from hot rods, surfing, skateboarding, music, guitars, pickup design, bands…but regardless of the topic, Andy will light up, displaying both a genuine love for (and an encyclopedic level of knowledge of) each subject. He's quick to point out that all of these areas of interest come directly from his upbringing in his beloved hometown of San Diego.
But we're getting ahead of ourselves here. Let's back up to the beginning and how we got to be here discussing Andy and his new brand, Powers Electric. A little backstory:
Earlier this year, we were contacted by our friends at Taylor Guitars about a new project involving Andy Powers and a mysterious new electric guitar. Initially, we assumed it was likely a revamp of a previous Taylor electric model or perhaps a new Taylor hybrid acoustic-electric. We were quickly assured that this was actually not going be a new Taylor model and that the new guitar in question was truly an electric guitar (not a hybrid) designed and built by Andy himself under the brand, Powers Electric, not Taylor Guitars. 
While Andy Powers is best known for the innovations he's brought to the Taylor line-up (most notably his radical and much- lauded 'V-Class' bracing design), it may surprise some to learn that he is actually a long-time electric guitar player - and a mighty fine one, it should be noted.
As the head of a renowned acoustic guitar company like Taylor, you wouldn't expect him to be as versed in electric guitars as he is, but Andy definitely knows his stuff. He's worked on (and owned) countless vintage guitars throughout his life and spent many a night on stage gigging with a variety of electric guitars. These formative experiences no doubt helped shape the path he would eventually take towards developing his own electric guitar designs. Interestingly, his first model - the Powers Electric A-Type - draws its inspiration from more than just vintage guitars. Its existence is part of a deeper story that involves Andy's upbringing, surrounded by San Diego's rich surf, skate, car, and music culture.
So after receiving an invitation from the Powers Electric team to visit San Diego along with a few other select dealers in mid-May, Adam, Dan, and I flew out to California to learn more about the project from Andy himself. To better understand the genesis of Andy's A-type design process, we we were quickly immersed in the surf and car culture of San Diego.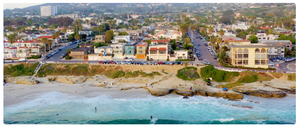 SoCal
Southern California is famous for quite a number of things of course, but for electric guitar players, it's known as the birthplace of the electric guitar. This is the place where it all started. Pioneers like Paul Bigsby, Leo Fender, and Les Paul have roots here, as do many aspects of post-WWII American culture. 
It's interesting to step back for a moment and think about the connection that something - a product, a cuisine, a person, a guitar - has to its place of origin. How the climate and culture in a particular part of the world can shape and influence its residents, art, food, and goods. Take, for instance, Fender. Fender is forever associated with its California roots; Martin Guitars to their Pennsylvania roots; BBQ with the South; Bourbon with Kentucky; and so on. After spending a little time soaking up Southern California's culture, learning about its storied history firsthand, we couldn't help but wonder - could the electric guitar have come from anywhere else but post-WWII California? It just makes sense when you're here.
When discussing the Powers A-Type's origins, Andy was quick to point this phenomena out - that his guitar, and its design, were a product of Southern California and couldn't have come from anywhere else. "San Diego is a unique place," he mentioned. "It's not like other places and it took me time to appreciate that." With age and travel came the realization that his experiences growing up in San Diego weren't typical. Neighbors were always building, rebuilding, or modifying cars; playing music with family and friends was the norm; surfing was simply an unquestioned way of life; Andy's father was an excellent woodworker...
Everyone in Andy's world, it seems, was passionate about something, and they all had the artistic, athletic, or engineering chops to go along with it. Being immersed in that type of world - where passion drives your decisions, where community and your contribution to it matters - will leave its mark on you, especially as a young kid. 
Surf Culture
Surfing is to California what skiing is to us here in the Northeast. Most who grow up around either sport end up making it a part of their lives without thinking a thing about it, and that's certainly true for Andy Powers and surfing. For those who develop a real taste for it, these pursuits quickly become an all-consuming passion and any equipment used in the sport starts to matter a lot (sound familiar?). It can either impede or support your goal of becoming the best you can be - skier, surfer, guitar player, it's all the same path. 
Surfboard makers in the 60s were constantly searching for better solutions to the issues surfers faced with their preexisting boards. With input from local surfers, surfboard makers began tweaking their designs and construction methods in order to help surfers gain better control of their boards, allowing them to connect more deeply with the wave, and ultimately, giving them the means to better express themselves - to become the best surfers they can be. These changes and improvements to surfboard design resulted in a great leap forward for the sport.
Pictured Above: After enjoying a midafternoon coffee (the coffee sodas at this particular coffee shop were a revelation for us, it should be noted - Dear Boston Coffee Shop owners: we need coffee sodas here!) former Women's Pro Surf Champion, Debbie Beacham, and surf journalist, Chris Ahrens (pictured above), were kind enough to hang with us and share their experience of these changes in surfboard design and how they helped propel surfing into the mainstream.
Car Culture
Though we were only in town for a day, it didn't take long for us to realize that the hot rod car scene in San Diego is simply incredible. Everywhere we went we saw cars we'd own in a heartbeat, but alas, New England winters and classic cars don't go together very well at all (our wallets weren't loving it either, but that's another matter). 
After walking street after street, all lined with amazing classic cars, it was easy to see how guitar makers with an eye for design would be inspired by these cars and the surrounding culture. The customizations, the engineering involved with customizations, their flowing lines, the colors, and just the overall way the cars hit you aesthetically…cars and guitars have a very time-tested relationship and it's not hard to see why - they're both beautiful works of functional art. 
Before settling in for dinner, we took a short walk to a local car show in Encinitas. On the way, we asked Andy what he's driving these days and what his all-time favorite car is (an impossible question to answer, of course). Before giving him time to properly answer, we confessed to knowing little about cars other than we love them, their design, and the pull they have to another time in our country's history when design was paramount. Upon hearing our confession, Andy excitedly belted out, "You don't need to know anything about them, they're just cool!"
It was like receiving a friendly slap - of course! He's 100% right. They are just cool, whether you know anything about them or not. It isn't so much about possessing a deep knowledge of how engines work, for example, it's more a question of - can you appreciate beauty in all its varied forms? Be it in a car's design, the way a surfer cuts a wave, someone's guitar playing, or a new guitar design.
The Powers Electric A-Type
After spending the day taking in the surf and car culture of San Diego, we started to see why Andy had wanted us to come out for a visit. It's difficult to sum up something as vast as a city's culture in an email or video, and something else entirely to sum up the impact that culture has on your creative process without just experiencing it, however brief the time. 
The experiences Andy and his team put together for us during our trip were meant to educate us about the environment that gave rise to the the A-Type's iconoclastic design. Besides, if surfboard designers could alter the way boards had been built which led to a revolution in the sport, or if Leo Fender could fundamentally change what it meant to electrify a guitar, also to great affect, or if car enthusiasts can modify their cars into 'hot rods' to express their unique personalities - what's stopping someone like Andy from trying his hand at electric guitar design and adding his own chapter to the history of the instrument? 
This curiosity - posing the question, what if? - is ultimately what yielded the A-Type guitar. It's what the culture we'd been exploring in San Diego gave rise to - the permission, if you will, to take risks, to express your unique individuality, to contribute something of value to the community. Evidence of the answers to the what if? question are everywhere on this fully in-house made guitar: from the trussed hollow body, made of Urban Ash and topped with solid maple, to the mahogany neck with an asymmetrical fingerboard radius (the inspiration for which originated from surfboard design), a bridge made of a high-carbon steel base with a Delrin saddle, the hot rod inspired CamTail tremolo - designed to mimic the sound a lap steel guitar makes when sliding between chords - to the custom designed full (or partial) Faraday pickups and colorful knobs and tremolo switch tip - made from the resins used to glass surfboards. Everything on the A-Type was designed from the ground up by Andy via his unique vision for what the ideal electric guitar could be.
One of our favorite stories that Andy shared while walking us through the design, from initial drawing to completion, was after having made the initial drawing and body mock-up, he had to step back and ponder what he'd made - Well, what is it? It is a Fender? No, not really. A Gibson? No, definitely not. It's its own thing, independent of those guitars, but never letting the line to the past go completely. If you know where to look you can see tips of the hat to these forbearers, but nothing is derivative…it's all meant to be something that stands on its own and offers players a new experience to explore. 
"As a player and a builder, I wanted a guitar with great musical utility, one that feels amazing every time you pick it up — inspiring you to explore fresh ideas while allowing you to sound more like you. This is a guitar for electric players who don't want to be a stereotype," Andy mentioned.
CONCLUSION
By the end of our trip, we couldn't help but be inspired by what Andy is doing with his Powers Electric A-Type. The way in which he draws inspiration from the community he so obviously loves to create something of lasting value; to express his unique vision; to ask the question "What if."
Much like Leo Fender and other great designers of our time whose work set in motion something via their ingenuity and whose lasting impact could never have been foreseen all those years ago, the question comes back to what if? What if I try something that's never been done, that's never been made, that's never existed? What might the musicians of our day do with it? What music might be created? How might the A-Type itself evolve over time with use, feedback, and improvements? 
These are the questions Andy Powers is exploring with the release of his inspiring A-Type electric guitar. Let's all agree right now to circle back in 20 years time and see where its ripples led the guitar playing community. Deal?