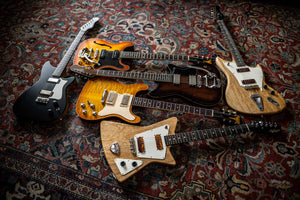 boutique guitar Spotlight
Healy Guitars | High Spirit Guitars | Thomas Rodriguez
Three Boutique Builders, A Fresh Batch Of Guitars, And One Giddy Guitar Shop
April 4, 2023
The term boutique gets tossed around a lot in the guitar industry so we thought it'd help to mention how we define it here at TME. Boutique for us means:
Independent shops, run by one luthier, who build instruments from start to finish
Independent shops, run by one luthier, with a small crew of assistants helping with various stages of the build
As you'd imagine, working as a boutique builder is an incredibly difficult undertaking for many reasons (for the sake of this discussion we'll focus on the building itself vs the running of said business). The chops needed are many - woodworking, metalworking, finishing, setup, sometimes pickup winding, and on the list goes.
As the builder, you're responsible for seeing a vision through from start to finish, relying on your own skills (or with a small crew's assistance), the challenges many and varied. Really, what could go wrong? :-) There are, however, builders who can do all of these things masterfully and consistently (one look at our electric roster of builders and you'll see we consider ourselves very fortunate to work with the best-of-the-best high-level boutique builders).
___________________________________

Trevor Healy, Connor Kelly, and Thomas Rodriguez are three such masterful builders, all quietly making some of the best boutique guitars on the market today. We say quietly, though they've all been building for at least a decade or more (Trevor and Thomas well beyond that), because they may not be on your radar yet.
One of the downsides of being a boutique builder is the lack of a marketing team or budget. The focus is 100% on making incredible instruments, and to that end, each are masters of their craft (we're beyond happy to do our part to spread the word).
We're fortunate to play all manner of incredible instruments at our shop and can say, without hesitation, that Trevor, Connor, and Thomas are indeed some of the best-of-the-best.
It's rare that we have new guitars from a handful of our boutique builders here at the shop at the same time - hence our Boutique Showcase here. If you see one you love, don't sleep on it - these tend to sell quickly!
HEALY GUITARS (Massachusetts)
You know that underground band you've loved for years? That emotional connection to their work, feeling fulfilled and enriched, excited, moved...then one day, the rest of the world starts to see them the way you do? That's how we feel about Massachusetts luthier Trevor Healy.
Trevor has steadily built up a brand of instruments that reflect his 20+ years of guitar building and repairing. Trevor and his small crew are focused on building original designs that are highly playable, aesthetically beautiful, and always have something up their sleeve with regards to pickup selection or wiring. These are instruments made by, and for, players looking for an inspiring, road & studio worthy guitar that'll be with you for life.
HIGH SPIRIT GUITARS (California)
High Spirit Guitars was started by Connor Kelly with the intention of combining his love of art, music, and design. After graduating from studying music and art at San Diego State University, he began building and designing guitars.
What makes Connor's original work even more impressive - beyond the beautiful build quality, looks, playability, and tone - is that he's delivering a truly handmade instrument, down to the in-house made bridges and pickups, for not much over $2K, and many times, under. That's truly unique, and something to be applauded, in our industry.
THOMAS RODRIGUEZ (Virginia)
Photo Credit: Jeffrey Gleason
We are really excited to be working with the extraordinarily talented Thomas Rodriguez. Based in Virginia, Thomas has been building guitars, including highly regarded nylon strings, for the last 35 years alongside fellow VA-based contemporaries Lindy Fralin and Bill Callaham.
Thomas builds each guitar the old fashioned way, ie. by hand with no CNC, and the results are spectacular. They consistently embody the feel and soul of great vintage guitars but with modern, world-class build quality. If vintage is your thing but you want something made in the current era (at a fraction of the cost of vintage)? Don't pass these up. Exceptional guitars, period.