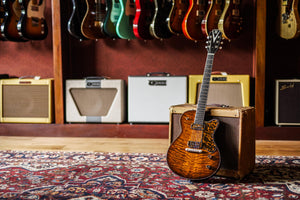 boutique

Electric

Spotlight
Scott Heatley | Grez Guitars | Koll Guitar Co.
Three modern builders who prove we're living in a golden age of lutherie
June 23, 2023 | Eliot Hunt
It's often said that we're currently living in a golden age of guitars and related gear. To be sure, the sheer amount, and quality of gear available has exploded over the last 10-15 years, driven by countless YouTube demos and Instagram pics, along with sites like Reverb.com and The Gear Page. Whether you're into amps, pedals, replica guitars or original designs, there is truly something out there for every player—a golden age indeed.
Scott Heatley, Grez Guitars, and Koll Guitar Co. are three builders who exemplify why many of us feel we're in a Golden Age of guitar making. Each brings decades of experience to their craft, marrying elegant design and world-class built quality with real-world usability. While these guitars are heirloom quality, they are meant to be used by real musicians, not relegated to a case tucked under the bed.
We're fortunate to play all manner of incredible instruments at our shop. We can say, without hesitation, that Scott, Barry, and Saul are some of the best-of-the-best building today.
Boutique: A quick definition
The term "boutique" gets tossed around a lot in the guitar industry, so we thought it would help to clarify how we at The Music Emporium define that designation. Boutique, for us, refers to either:
A solo operation, where one single luthier builds instruments entirely from start to finish; or
An independent shop, run by one head builder who directs a small crew of assistants helping with various stages of the build.
As you can imagine, boutique building is an incredibly difficult undertaking for many reasons. (For the sake of this discussion we'll focus on the building itself vs the running of said business.) The chops needed are many: design, woodworking, metalworking, finishing, setup, sometimes pickup winding, and on the list goes.
As the builder, you're responsible for creating a vision and seeing it through from start to finish. Whether relying on your own skills or leading small team, the challenges are many and varied. Really, what could go wrong? :-) There are, however, builders who can do all of these things masterfully and consistently. We are proud to offer an electric roster that features some of the highest-level boutique builders active today.
Scott Heatley (British Columbia)
Heatley Guitars was founded in 1997 with a very humble loan and a tiny shop. From the beginning the idea was to build high quality guitars in small numbers and it remains that way to this day. The output is kept limited to ensure the quality stays high.
"Initially I started building to satisfy my own obsession and need for more guitars - I actually started the business so I could have more guitars! It took off faster than I thought and after a few years it turned into a full blown shop with a CNC machine and all the toys. I build guitars because I am obsessed with them and I love to build. It is my art and my passion." ~ Scott
GREZ GUITARS (California)
Photo credit: guitar.com
California-based Barry Grzebik is a bit of a modern renaissance man. Prior to guitar building, Barry was Director of Engineering for Apogee Sound where he designed, and oversaw the design, of everything from rack-mount digital signal processors to power amplifiers and critically acclaimed professional loudspeakers. His guitar company also partners with the Redwood Forest Foundation, Inc. which replants Redwood trees for each guitar sold. Suffice it to say, the man knows a thing or two about quality, sustainability, resonance, and sound.
Rooted in the tradition of California's guitar builders from a past generation, Barry builds R.C. Allen-designed archtops and unique semi-hollowbodies loosely influenced by P.A. Bigsby's construction techniques as well as steel string flat top acoustics, solid body guitars and basses.  Each handcrafted guitar is a singular creation, combining a unique style and approach to voicing with each musician's personal touches.
The reclaimed or salvaged Old Growth Redwood used at Grez Guitars are from first growth trees often 800+ years old. This reclaimed wood is sourced from deconstructed or rehabilitated structures such as train tunnels, wine barrels, water vessels, vinegar tanks, barns and factories. Using reclaimed wood produces exceptional solid,semi-hollowbody and acoustic guitars that are surprisingly light weight, acoustically vibrant and as uniquely beautiful.
Koll Guitar Co. (Oregon)
Photo Credit: Bill Purcell
Since 1986, Saul Koll has been making unique, innovative guitars using only the finest materials with a total dedication to his craft. Koll guitars are handcrafted in our Portland, Oregon, workshop by master luthier Saul Koll and his team. The result is an embodiment of Saul's creativity designed to become an extension of yours, a guitar that sets itself apart from others the moment you pick it up.
Koll uses only FSC-certified sustainably harvested woods, locally sourced Oregon big leaf maple for their guitar tops, and pickups and parts made in the USA by people they know and love.
Saul developed his now-iconic Glide body shape over 25 years ago, and has been using it as the main platform for his guitar designs ever since. The shape and features of Koll Glides are often imitated, but that only pushes Saul to keep innovating. 
Koll players span the most demanding and challenging of guitarists including David Torn, Elliot Sharp, Bill Frisell, Lee Ranaldo (Sonic Youth), Henry Kaiser, Isaac Brock (Modest Mouse), Mary Timony (Ex Hex), Eleanor Friedberger, Peter Holmstrom (Dandy Warhols), Hershel Yatovitz (Chris Isaak), Kenny Greenberg (Kenny Chesney) and many more.