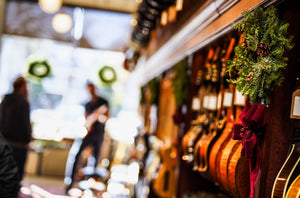 Sunday Shopping by Appointment
While we won't be open for general browsing on Sundays this holiday season, we will be offering appointment-based, in-store shopping consultations for all customers interested in purchasing instruments and amplifiers before December 25th. 
Hour-long appointments are available from 12:00-5:00PM each Sunday now through December 18th. A member of the TME staff will be available to guide each customer through the decision-making process ~ whether you're buying for a loved one or treating yourself. Book your appointment now via the button below.