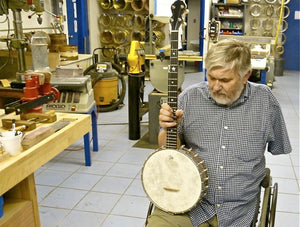 Bill Rickard's Remarkable Story
"I've been riding bikes since I was 16 years old and always figured that I'd had my one bad accident, after over 40 years of riding. I've toured New Zealand, ridden several times from coast to coast of Canada and the USA, and toured all of England and Europe over the years. On June 9th 2002 I left Canada to tour Italy with some riding buddies. It was arranged by a rental firm and the highlight was to be our attendance at a road race in Italy that was sponsored by Ducati. As I got on the plane Sunday evening I actually mentioned to my associates that I felt uncomfortable about this particular ride, and warned the others of the dangers of riding in Italy, as I'd ridden through Italy several years earlier.
We arrived in Italy on the Monday morning and picked up 4 brand new rental ST4 Ducatis. The bike I was given had only 40 kilometres on it as I left the parking lot in Milan. We rode for approx. one hour and finally exited the high speed Auto strata. At this point I had a picture taken, that was to be the last, of my normal life situation. It was a beautiful sunny hot day as we rode towards Varsi. At this point I learnt the reality of the expression that your life can change in less than a second! All I can remember is a white truck traveling in the oncoming lane appear to cross the centre line, and then a sickening flash. Next I was in the air. I can remember thinking that I was going to get run over by another vehicle. I smashed the back of my helmet out as I flipped down the highway! It seemed like it took forever for me to stop sliding down the asphalt. When I did finally stop I immediately tried to get up to get myself off the highway, but I couldn't move and was in tremendous pain up my left side. On looking downwards I realised that my left arm was totally gone and blood was literally everywhere! Next my buddy was there and tried to hold me down, but he suddenly broke into tears and walked away, saying don't move Bill, your hurt real bad! The next thing I remember were 2 police officers leaning over me, both in tears, and someone wrapping something around my left leg. At this point I was fully conscious but in total shock. Next it was into an ambulance, with more attendants screaming at me! I can remember telling them that they would have to speak to me in English as I didn't understand Italian.
From that point on I passed out, and the next thing I knew was three days later I was in an intensive care ward in Pavia, with my wife next to me. She'd travelled to Italy from the west coast of Canada thinking that I wasn't going to live. I was naturally drugged up to the max, and on the Wednesday my wife told me that I was smashed up pretty bad. I told her that I was aware that my arm was gone but then she broke the news to me, that I'd also lost my left leg at the hip, and that my arm was gone from the shoulder joint! The surgeons to this day can't explain how I survived, with such a large blood lose at the scene of the accident! If your still with me, and reading this, the story gets better!
On the Thursday evening, the 21 year old who was driving the truck that hit me, visited the hospital to meet my wife, with his mother and a translator. He slipped her a note explaining that he was sorry for the mishap. The surgeon who also spoke some English explained to my wife that the first doctor who tended to me and kept giving me blood until they could airlift me to a Pavia was the father of the young man who'd caused the accident! Small world! I guess I should have stayed home that week and purchased some lottery tickets!
By the following Sunday they'd stabilized me, and I was flown back to a hospital in Canada, via an air ambulance. The following 4 months were probably the toughest times I've spent in my life. I nearly suffered a complete break down and was in tears more times than not. Then one day in late October, I was lying in hospital looking at the ceiling, and I realised how lucky I was to still be alive. You suddenly realise that even a rainy day can be pretty good, compared to no days at all!
At this point I discharged myself from hospital and started to put my life back together again. After several years I'm still relying on a wheelchair to get about, but am back to building both guitars and banjos again, a long time hobby and passion. I guess I'm probably the worlds only one armed banjo builder! Just remember life goes on and definitely better to be living on this side of the grass! As per motorcycles? If anyone has a suggestion of how I could ride again please get in touch!!"
All the best,
Bill Rickard
Canada