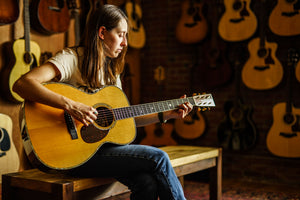 Hidden Gems #17 | Hidden Gems is a series we started based on a simple idea: we each take a turn at sharing our current favorite instrument(s) in the shop. A bit of a show-and-tell, if you will.
Piet | Open Pore/Translucent Metallic
Huber
"This guitar feels like a Telecaster mixed with a Gibson slab style guitar, and I love how lightweight it is. Play some slide, rip some rock or country licks - you can't go wrong with this one."
Honeycaster Hybrid | Desert Sand
Brondel
"A Tele bridge on a Strat body gives you best of both worlds - you can still get those classic Mark Knopfler Strat licks in addition to the Tele twang and snap."
High Spirit
"Lightweight pine body, unique, love the headstock, comfortable short-scale neck, pickups inspire some growly and snappy rock n' roll music."
LTD Nocaster Thinline Nocaster | Blonde/Relic
Fender Custom Shop
"Classic Tele Twang. 7.25" to 9.5" compound radius makes it easy to fly up and down the neck with endless country licks. This guitar has the magic. Still lightweight even with the Bigsby."