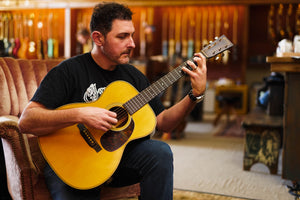 Hidden Gems #16 | Hidden Gems is a series we started based on a simple idea: we each take a turn at sharing our current favorite instrument(s) in the shop. A bit of a show-and-tell, if you will.
Lowden
The Lowden S-35 Guatemalan is a beast. It sounds super rich, with very satisfying, warm harmonic content from the redwood & Guatemalan rosewood combo. Between the scale, setup, and beveled armrest, it is also incredibly comfortable and fun to play. This is a guitar I would love to own and would play every day.
Beard
The Beard A Odyssey is a surprisingly acoustic take on the resophonic guitar. It has a wildly open sound, and makes for a decidedly distinct strummer and fingerstyle guitar.
Custom 00 | 12 Fret All Mahogany
Martin
We did a custom run of these sweet 12-fret 00 Martins—essentially a modern take on Martin's "17" platform, with a sleeker neck and solid peghead—and loved how they turned out. Twelve-fret steel strings have a certain magic about them, with great low end fullness for their size. The all-mahogany body lends a woody, rolled-off treble quality perfect for picking old tunes.
Pava
The Pava is a wonderful, wonderful mandolin. Her voicing is, dare I say, even a touch warmer and more scooped than Ellis, with the same top-shelf build quality and attention to detail. Again, this would be a daily player if I owned it. The Bluebonnet inlay is a beautiful reminder of the Pava/Ellis Texas provenance,