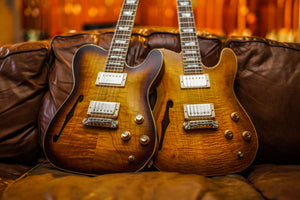 b3 FURTHER EXPLORES THEIR TRADEMARK MASH-UP OF GIBSON AND FENDER DESIGNS WITH THE RELEASE OF THE NEW PHOENIX "Set Neck" SN MODELS.
Eliot Hunt | December 6, 2022
The new b3 Phoenix Set Neck, released today, finds Gene Baker seeking harmony between two somewhat disparate designs - Gibson's set neck and Fender's bolt-neck designs. Who better to explore this concept than the guy who was Fender's first Master Builder, and, who also spent time working for Gibson?
Typically referred to as a "Tele-Paul", the idea of building what is essentially a Les Paul with a Tele body shape has been around for years with builders like Johan Gustavsson, Ian Anderson, Thomas Rodriguez, and even Fender themselves, delivering lustworthy variations on this theme. Going back a touch further to the mid-80s, it has to be noted that Paul Reed Smith is the builder most responsible for putting the 'hybrid' idea in our collective consciousness with his Standard (Strat-meets-Les Paul) model. Origins aside, a quick look at each of these builder's work uncovers what I find endlessly fascinating and inspiring as a player - though the concept is the same, the results are always varied and unique.
Speaking of the mid-80s, I started playing guitar in 1986 when I was 10 years old. Pointy guitars, flat radiuses, high output pickups, Floyd Rose trems...you know the drill. Guitars were "high performance" machines back then. While I learned a ton on these types of guitars and had a blast shredding on them, now that I'm older, slinging a neon pink shredder in public isn't in my best interest - but - I still appreciate guitars that are sleek, fast, and easy to play, I just want them to look like vintage guitars.
The reason I mention any of this is because the second I picked up a b3 years ago, I immediately connected with and recognized what Gene was trying to do with his guitars - they embody that high performance ethos but they're housed in a much, much cooler / old-school looking guitar.
That's exactly what I experienced sitting down with these new Set Necks for the first time. Flawless build quaiity, Gibson feel and neck carves, Telecaster comfort and balance, killer tones, gorgeous looks....but with that sleek and fast feel I remember as a kid. Don't get me wrong, these guitars are far from the shredders of the 80s, just saying they contain an element of that in the best way possible, melded with one of the best Gibson-feeling guitars I've played in quite some time.
Phoenix SN Deluxe Mahogany | Dirty Lemon Burst | #22 096
This gorgeous SN features a chambered mahogany body and mahogany neck, 4/5A flame maple top, super comfy '59 Soft V carve (.87-.98), stainless steel frets, 24.625" scale, and Throbak ESG-102B pickups with a 3-way, 2 volume, 1 tone (push/pull) configuration.
It also weighs in at just a tick over 8lbs.
Phoenix SN Deluxe Korina | Tobacco Burst | #22 089
This Tobacco Burst SN differs from its mahogany cousin in that it uses a chambered korina body and korina neck with Lollar Imperial humbuckers. All other specs are the same - '59 soft V (.87-.98) carve, rosewood fingerboard, 24.625" scale, stainless frets.
Total weight is only 7lbs 4oz!