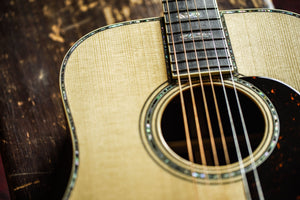 Martin's diverse lineup of acoustic guitar models cater to a variety of playing styles and budgets, and we've found them easiest to shop for when organized by series.
Authentic Series
The Golden Era is back: those years between the late 1920s and 1942 when a perfect storm of innovation, materials, and craftsmanship at Martin produced some of the world's finest, most sought-after guitars that sound better as they age. The Authentic Series are new instruments constructed to be faithful looking and sounding reproductions of history-making, pre-war models.
Standard Series
Standard Series models embody nearly two centuries of craftsmanship and technique—history made from wood and wire. These legendary guitars and the artists who played them helped establish country, folk, bluegrass, and rock. Today, you'll hear their ringing tone echoing across the American soundscape and in music around the world.
16 & 17 Series
Martin's 16 and 17 Series guitars are built in Nazareth, Pennsylvania and constructed using affordable tonewoods like mahogany and granadillo. Whether you love playing for yourself, need a guitar for writing, or enjoy hitting the stage, you'll find a model that matches your skill level at a price that sounds great.
15 Series
The 15 Series guitars are built to go the distance - they're something you'll play and prize from your first lesson to your weekly gigs and beyond. Martin 15 Series models are well-crafted, versatile workhorses that deliver classic tone anywhere you play—home, stage, or studio.
Road Series
Built road-ready and made to perform equally well on stage or in a studio, Road Series models are ideal for working musicians or up-and-coming players looking for a guitar they can grow into. These instruments are professional grade, and they'll be there for you every step of the way.
X Series
Durable and affordable without sacrificing tone, Martin X Series guitars are made for musicians that want the freedom to play how, where, and when they want without breaking the bank. Delivering legendary Martin tone, the X Series will easily make the transition from the couch, to the stage, to the great outdoors.
Junior Series
Junior Series models are built for comfort and playability, making them ideal for your first guitar. But they're also big on traditional Martin features like solid wood construction and ¼-inch scalloped X-bracing. They deliver all the tone you'd expect from a larger Martin guitar while ensuring you'll never outgrow them.