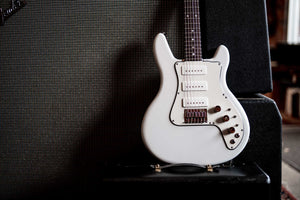 1 of 3 in the US | Only 6 Made Worldwide
Travis Bean Designs is back with the limited production 'TB500JG Generation 1' - a faithful recreation of the original TB500 owned by Jerry Garcia.
Dan King | December 13, 2022
2022 marks another exciting year for the Electric division of TME. One of the newest lines we've welcomed here at the end of year is the legendary Travis Bean Designs.
Travis Bean guitars marked a revolutionary time for the electric guitar on the heels of Gibson and Fender's "Golden Era". Clifford Travis Bean, along with Marc McElwee and Gary Kramer, founded the company in 1974 and brought their unique custom-built aluminum necked electrics to the market. They had an immediate impact in the guitar world, attracting players like Jerry Garcia and Keith Richards in the early days of the company while continuing to make an impact decades later in the hands of Lee Ranaldo, Steve Albini, and Ty Segall.
Our very first offering from Travis Bean Designs happens to be one of the most iconic and yet considerably rarer models originally offered by the California-based company - The TB500JG Model. Kevin Burkett of Electrical Guitar Company and Marc McElwee joined forces to bring a fantastic recreation of the famous original.
The Travis Bean Designs TB500JG Generation 1 is a faithful recreation of the original TB500 owned by Jerry Garcia. There were about 350 original TB500 models built, making them very rare and collectable (Jerry's actual TB500 was sold at auction in 2013 for a cool $243,000).
Used predominantly from 1976-1977 on tour with The Grateful Dead, Jerry's TB500 was the first guitar to feature the On-Board Effects Loop. This unique and groundbreaking feature is recreated in this new TB500JG, and combined with the custom made single coil pickups makes for an incredibly versatile and inspiring guitar.
The aluminum neck has a wonderful medium-full carve reminiscent of Gibson's 1957 neck profile - full in the first position with a smooth taper up the neck. Playability is absolutely superb with a unique feel in the aluminum.
The single coil pickups share some elements of the great P90 and Jazzmaster pickups combined, but with stronger dynamic response, note definition, and clarity. They're high-fidelity without compromising on character and vibe.
Big, open tone with loads of sustain captured by the wonderful neck-through design. The pickup switches allow for maximum versatility between the three pickups. Clean tones take you from sweet and mellow to bright and chimey with ease. Fat, clear overdriven tones are simply addicting! It's a special guitar that reaches well beyond its inspiration. 
This 2022 build is 1 of 6 instruments released worldwide, with just 3 available in the United States. It includes custom-made OBEL cabling made by Rattlesnake Cable Company as well.