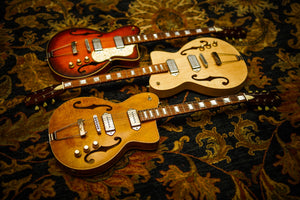 Glenn Nichols' latest trio of Cambridge models are a masterful study of John Lennon's Epiphone Casino, guitar finishes, and the beauty of aging.
Eliot Hunt | October 14, 2022
As a fellow Boston area resident, Glenn Nichols of Retrograde Guitars is a regular at our shop. Whether he's popping in with a new guitar he's just completed or dropping off a repair he's kindly done for us, it's always great to hang for a bit and chat about guitars.
On a visit earlier this year, the conversation turned to what he's working on next for TME. "I'm working on some Cambridge models for you guys next," he informs me.
Quick backstory - the Cambridge is the model that made me immediately want to represent Retrograde a few years ago when we initially met. It's a lightweight, "student-model" style guitar that looks, feels, and sounds like an old, perfectly seasoned guitar with a gorgeous acoustic & amplified voice. We don't tend to see many per year, so I was excited to learn we had a few on the way.
"This batch is going to be really cool," Glenn added. "I'm really excited about this one. Remember that Epiphone Casino-style "Loretta" Cambridge I built for you guys a year or so ago? I want to run with that idea, but really expand on it." 
At this point, I was very interested to learn what he had in mind as I'm a huge Epiphone Casino fan and loved Loretta when we briefly had it at the shop (all of Glenn's guitars tend to sell quickly).
Glenn is a classic artist in the best way, which I love about him. He's forever searching for inspiration for the next build, for ways he can improve his process, make his guitars better, and build instruments infused with timeless beauty. Spend any amount of time chatting guitars with him and you'll know he's genuinely driven by a deep love of guitars and guitar building - ie, he's the real deal.
"I'm doing a trio of Cambridge models based on John Lennon's Casino. The first one is going to be sunburst, like it would've been when he first bought it. Not aged much, but not glossy either. Just, new. The second one is going to be natural, like his was after he and George sanded the finish off their guitars. And the last one is going to be aged, to basically mimic what John's guitar would look like today after decades of use - how it's aged over time."
If you're anything like me, your 'guitar nerd meter' just spiked reading that. What an incredibly cool concept for this batch of guitars, no? This is why we love working with Glenn, btw.
With this story as your context, let's take a look at these beautiful guitars, shall we?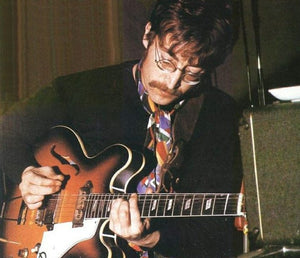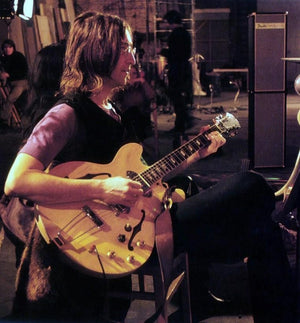 Cambridge #45 | Antique Sunburst
This gorgeous 3-tone sunburst Cambridge #45 is where the story of John's Casino begins: this is Glenn's vision of what that Casino would have looked like when purchased new in 1966 - soon to be used on The Beatles' 1966 tour of Germany, Japan, and the US. Soon after, it would be used during the Sgt. Pepper recording sessions.
Utilizing a maple laminate top and back - solid maple sides - mahogany neck w/a granadillo fingerboard, and a set of Retrograde P90s, this guitar not only looks the part, it has that unmistakable, punchy, Casino-like tone.
Glenn's Antique Varnish vinish is simply outstanding. It pulls just enough figuring out of the maple while ultimately creating a guitar that feels broken-in and older than new guitars typically do.
Cambridge #46 | Natural
Cambridge #46, in a Natural Antique Varnish finish, envisions the guitar in the period after John and George return from India and have their guitar's finish sanded off. While not truly sanded bare here - you still want, and need, a bit of finish to ensure the wood doesn't give off or take in excess moisture - the finish is incredibly thin and certainly captures the vibe of John's sanded guitar.
Amazing to think that John and George weren't much different than any of us when it comes to chasing the best tones possible out of their instruments, right? Any of you running to sand the finish off of your Collings right now? :-)
Gorgeous figuring abounds on the maple laminate top, back, and solid maple sides. Like the other 2 Cambridge models in this set, it features a mahogany neck, granadillo fingerboard, and Retrograde P90s, 2 volumes, 1 tone, and a 3-way switch.
CAMBRIDGE #47 | AGED NATURAL
Laslty, Cambridge #47 is a fascinating guitar as it imagines John's guitar in the current day - well worn, used, and patinaed after decades of service. Can you image the amount of soul and character John's guitar would embody and what it would feel like to play it for a few minutes? Talk about a life well-lived, right? While this Cambridge may not have belonged to a Beatle, it captures the vibe with ease.
Again, Glenn's finish work shines here as do his hand-wound P90s.
#45 and #47 DEMO | Adam Levy & Rich Hinman