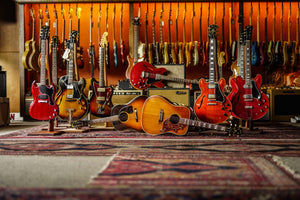 It's the end of 2022 as we know it, and we feel…more than fine. Appreciative and already a little nostalgic, let's take a look back at some of what made this past year memorable.
Eliot Hunt & Ian Goldstein | December 29, 2022
As the year draws to a close, it is only natural to take a moment to take stock of the past twelve months - the good, the bad, the ugly. Though here in the guitar-o-sphere, surrounded by some of the best fretted instruments available, things are generally pretty darn good. It's always fun to chat with our community and hear things like, "Seriously? You have a ridiculously great inventory these days!"…or…."I saw that email about the vintage drop and was afraid to even open it!"
Don't for a minute think we're any different. When we get a moment to pause during a busy week, or enjoy an impromptu beer together after work (Treehouse or Trillium are our local go-tos, check them out!), looking around our small shop, that sense of awe never leaves us.
You may have heard it said that we are living in a Golden Age of instrument making. We would humbly present our inventory as Example A of that argument. Indeed, as players we are blessed to have so many passionate, talented builders working today. As a business, we're equally fortunate that the aforementioned builders are also exceptional people that operate their businesses with the utmost class. A Golden Age indeed.
2022 was a remarkable year for us here at The Music Emporium. Trying to highlight all of the amazing instruments that passed through the shop this year is simply impossible to do - there are just too many to highlight. So instead, here are a few key themes that helped define the past year at The Music Emporium.
TME Vintage Collections 
If you've been following us on social media this year (a hearty thank you if you have!), you will have noticed our seasonal Vintage Collection drops. We have been making a concerted effort to grow our vintage inventory, both acoustic and electric, and the response to these collections has been incredible. Expect to see more of these collections in 2023. 
Martin Custom Shop & Authentic
It's always a joy for us to spec out our dream Martin guitars (really, who wouldn't love doing that?). It's even better when the community shares in that joy and excitement with us, making these guitars some of the most popular guitars in the shop this year. 
Provocative Pairs 
Across the store, whether in vintage, new, used, acoustic and electric, guitars and mandolins, this year found us seeing double in the best way. We think you'll agree: if one is good, two or three is that much better! 
We played host to the first ever common-tonewood-themed pairings of guitars from Collings in honor of the Fretboard Journal Summit; a trio of Retrograde hollowbody electrics inspired by John Lennon's Epiphone Casino; twin A model mandolins from Lawrence Smart; two Gibson Les Paul Gold Tops made in back-to-back years; and a couple of Signature Model Huber electrics. 
Last but not least, we wanted to highlight the new brands we welcomed into The Music Emporium family in 2022. 
Beyond the instruments and the companies behind them, our deepest gratitude extends to you for supporting our small business. We truly appreciate it and love being a part of the guitar community. 
From all of us here, we wish you a happy, healthy, and music-filled 2023!
VINTAGE COLLECTIONS | PAIRS
As mentioned, it was a incredible year for Vintage here at the shop. Below are just some of the pairings that came through in 2022. Yowza.
1952 & 1953 LES PAUL GOLDTOPS (Available) | 1958 LES PAUL JUNIORS | 1948 & 1956 MARTIN D-18s | 1963 JAZZMASTERS (Available) | 1957 ESQUIRE & TELECASTER | 1977 STRATOCASTERS
MARTIN | CUSTOM SHOP & Authentic
The four Martin Customs below are a huge reason so many of us fell back in love with modern Martins in 2022. These are exceptional guitars that we'd put up against any small-shop / boutique instruments.
Nik Huber | Bernie Marsden Signature Orca PAIR
Nik Huber and Bernie Marsden teamed up this year to produce a pair of signature model Orcas based off of Bernie's late 50s Gibsons.
What Nik and Bernie ultimately landed on is a pair of Orcas that meld the best of hollowbody guitars - an airy tone with a slightly different note attack - with a solid-body guitar's heft and punch. In addition to using internal honeycomb chambering, Nik and Bernie incorporated a new design for the heel joint, three knobs instead of four, and, naturally, the addition of Bernie's signature Cream T pickups.
Limited to 12 pair world-wide, we are honored to have been one of the shops able to acquire these remarkable instruments.
Collings Guitars | 2022 Fretboard Summit Pairs
Before deciding to return to the Fretboard Summit this year, Collings Guitars embarked on a special journey, constructing three pairs of guitars that mark both a commitment to excellence in lutherie and a new chapter in their company's story.
Instead of bringing available examples of their work to the conference, the master builders and designers at Collings conceived these hand-built sets of instruments -- they'd be made from matching sets of materials, individually voiced and selected to represent the finest characteristics of the guitars that have come to signify the Collings name. 
While Collings has long been considered the world's bar-setter for quality amongst small-shop acoustic guitars, their dedication to craftsmanship in the electric guitar realm is similarly unsurpassed. And these commemorative pairs of instruments bring that idea to the forefront of their design practices. 
Lawrence Smart | A5 Mandolin PAIR
This year we had the privilage of hosting a pair of Lawrence Smart's brilliant A5 mandolins. To say we had fun comparing the two would be an understatement.
RETROGRADE | CAMBRIDGE 'JOHN LENNON-INSPIRED' TRIO
Our good friend Glenn Nichols of Retrograde Guitars outdid himself this year with this trio of Cambridge models - easily one of the coolest groups of guitars he's delivered.
"I'm doing a trio of Cambridge models based on John Lennon's Casino. The first one is going to be sunburst, like it would've been when he first bought it. Not aged much, but not glossy either. Just, new. The second one is going to be natural, like his was after he and George sanded the finish off their guitars. And the last one is going to be aged, to basically mimic what John's guitar would look like today after decades of use - how it's aged over time." ~Glenn Nichols
GROSH GUITARS | NOS RETRO "GS-100" TRIO
CO-based Don Grosh and his crew are always so gracious with the ideas we put forth, and this trio of NOS Retros - we're unofficially calling a "GS-100" model - is a great example of their willingness to humor our build ideas.
Basically, we thought it'd be cool to have Don and his team build a series of Guild S-100 Polara-inspired Strats. Why? Honestly, we have always loved the S-100 and thought it'd be cool to borrow some of its design language and apply it to a Grosh Strat, simple as that. 
b3 | Phoenix SN Deluxe PAIR
Released in December, the new b3 Phoenix Set Neck finds Gene Baker seeking harmony between two somewhat disparate designs - Gibson's set neck and Fender's bolt-neck designs.
Flawless build quaiity, Gibson feel and neck carves, Telecaster comfort and balance, killer tones, gorgeous looks....but with a sleek and fast feel. Excellent stuff from our friends in California.
COMPANIES we welcomed into THE TME FAMILY IN 2022
We're always looking for new gear, not only for the store, but for ourselves. As part of our philosophy of curating our inventory, we're looking for excellence not only in the gear itself, but in the people and companies behind it.
With that in mind, here is a quick look at the companies we welcomed to The Music Emporium familiy in 2022.